Decision Makers
Having a clear understanding of the social impact on product level throughout the whole life cycle and value chain gives a great opportunity to outperform competition by leading positive change. Companies that want to demonstrate leadership in applying the necessary due diligence to ensure that human rights are respected, that workers are protected and that any grievance is remediate are measuring outcomes and impact for people along the value chain.
This will help your people to confidently make well-informed, impactful decisions.
Social and environmental LCA's are based on the same concept of life –cycle thinking and share many common concepts, however there are a number of key differences when implementing these in an organisations. One of these is that social impacts are not lineair. Below are some key examples.

Companies have different drivers for social impact assessment. Some start and focus on understanding the risks and issues in the supply chain. The risk associating with incompliant suppliers can severely damage the reputation but can also cause disruptions in the supply.
Other focus more on product and service growth through improving products and services and optimising the product portfolio. Being able to report positive contributions on people in the supply-chain, or to the users of a product and service can be a very valuable contributor to improved imago and customer loyalty, whether you are in a business to consumer or business to business environment.
No matter which position you are in, General Management (CFO, legal counsel, communications), CSR, Procurement, Product Development or Marketing assessing human well-being along the value chain of your products is of high relevance. It can be applied in the following areas:
Applications of social impact assessment.
Social impact assessment has a variety of application in the business. In the illustration below BASF describes the application areas of social assessment in the company. Mentioned are strategy (investment decisions), Procurement (choice of supply chains and risk assessment) and Politics and Marketing.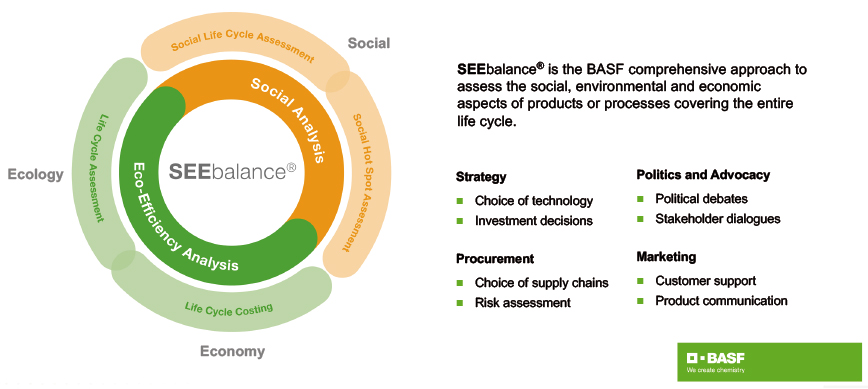 Click here to learn more about the following applications of product social metrics:
Mitigating risks
Guiding investment decisions
Steering product portfolios
Reporting against the SDGs